3D REALITY MESH – SCALE AND QUALITY FOR REAL-TIME RENDERING
The quality, scale, and game engine compatibility of MetroMap's 3D reality mesh made Immersion's interactive finale possible.
MetroMap 3D data is fully streamable in real-time rendering platforms, such as gaming engines, making Immerse's crescendo possible. Audience members used motion-tracking cameras to throw virtual paintballs on MetroMap's 3D reality mesh model of Adelaide with real-time effects.
Nathan explained how the Immersion team achieved this; "Animation is done in real-time in-engine, and we really needed to do that for the interactive elements throughout the show. Within that scene we dropped the MetroMap 3D mesh into Unreal, and used atmospheric lighting effects and particle effects to bring it to life with dynamic lighting, and obviously, full spatial 3D surround sound as well."
Aerometrex's 3D reality mesh made it possible to incorporate real-world environments into virtual productions. Using a 3D city model would be otherwise unviable, as Nathan explains:
"Aerometrex's large-scale and photo-real content is the most efficient way to recreate a scene quickly and effectively, whether for virtual production or for a show like Immersion. Building these environments from scratch would be absolutely impossible. Getting this level of realism and detail into a mesh so large is just impossible for a production team. So really, it enables real-world reflections on digital environments and that's an incredibly powerful tool for any creator to use."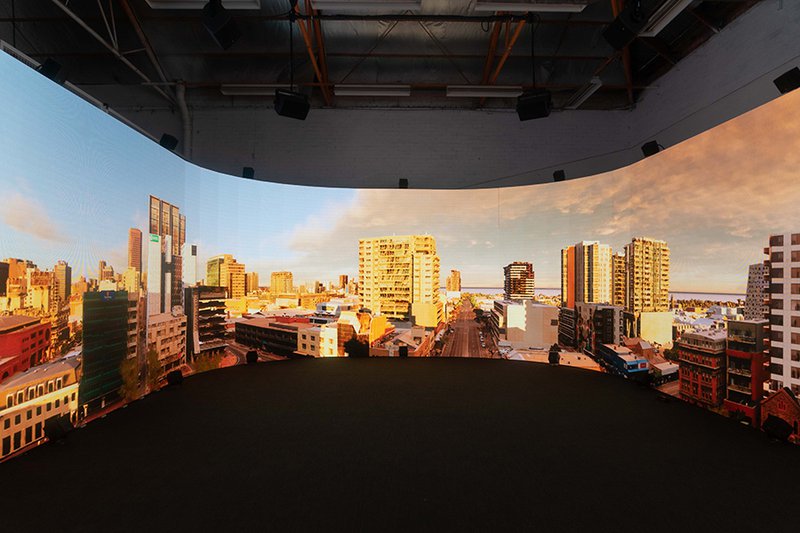 Immersion's finale featured the high-resolution Adelaide CBD dataset.