Aerial LiDAR has been the technology of choice for generating high-accuracy elevation datasets for many years. Aerometrex's Airborne LiDAR sensors emit up to two million laser pulses per second, and each one represents multiple direct measurements of the three-dimensional location of the environment. The vertical component of each point within the resulting dense LiDAR point cloud can then be analysed to produce a wide range of elevation datasets, both raster and vector, which symbolise the elevation of the landscape in two dimensions, making it much easier to use them in standard GIS platforms. Depending on how you classify the underlying LiDAR Point cloud, elevation datasets can be produced that describe specific sets of features across the landscape.

Ground Surface Elevation
Two of the most commonly used elevation products derived from Aerial LiDAR - Digital Terrain Model (DTM) and Contours - both describe the elevation of the ground surface and are extracted from points classified as ground, requiring at least Aerometrex's Type 1 classification. These products are made possible as LiDAR has the ability to penetrate through vegetation and measure the ground surface below, thus providing an accurate measurement of ground surface elevation even below the tree canopy and revealing the regional topography of the landscape.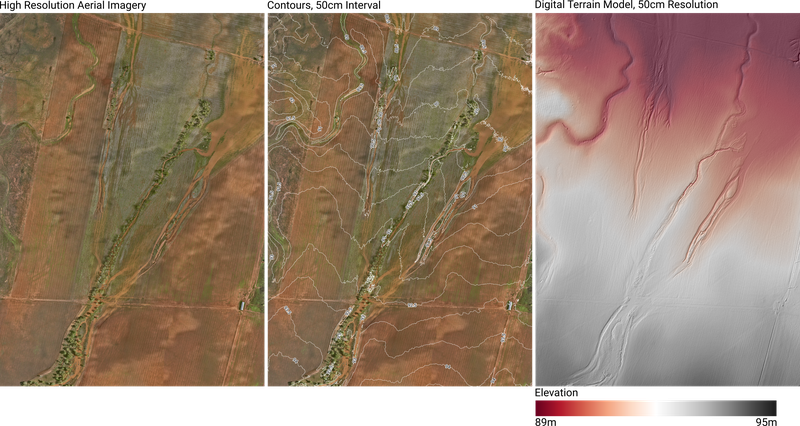 Figure 1. [Left] High-resolution Aerial Imagery. [Middle] 50cm Interval Contours. [Right] 50cm resolution Digital Terrain Model. Both the Contours and Digital Terrain Model are derived from the points classified as ground within the Classified LiDAR Point Cloud.
A Digital Terrain Model, also known as a Digital Elevation Model (DEM) or Bare Earth Model is a raster dataset where each cell (pixel) shows the ground elevation relative to sea level, derived directly from the points classified as ground within the point cloud. In contrast, contours are a vector dataset comprised of polylines that join points of equal ground elevation, revealing landforms and slopes, derived from an initial Digital Terrain Model. Both datasets can be used to understand regional or local topography to model surface water flow, understand flood hazards or measure site geometry for engineering and urban design works.